Today I was back up at the Woodlot with Tim to do some building on Snakes and Ladders. We decided to do the next bridge on the trail that covered a really swampy area. Basically I did the framing and nailing of the rung and Tim spilt the rung and did the approach. Once all the rung was in place Tim went to work on the edges of the bridge and made it really look like a snake. It was a really nice day out but because there was only the two of us, at times things took allot longer than expected to get done.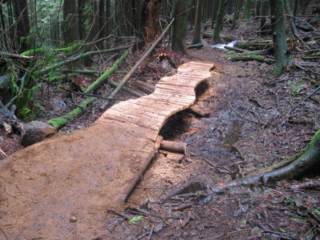 Tim left a little earlier than me so I went back up the trail to fill a bad little hole. I had to jump in the nearby creek to get most of the big rocks needed to fill up the hole. So once I had all the rocks, I dug out the crap in the hole, arranged the rocks and topped it off with some nice gold dirt.




I then rode out the rest of the trail and made my way out Shotgun. I had another stupid spill on Shotgun, this time my pedal clipped a log on the side of the trail which then sent me into a spin and a launch over the bars.

Apart from my little spill, I had a decent day of building and a okay ride out to the car.